Welcome …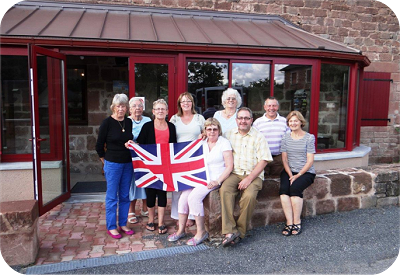 Do you love Aveyron or Lot Valley ?
Would you like to discover the area with your family,
friends or the members of your sport or social club at
a reasonable price without compromising on quality ?


If your party includes 10 to 46 people, think about Gîtes de France « La Grange » and «L'Oustal ».
Accommodation at both gîtes is self catering for 23 people;
they are located 100 yards apart in the heart of Nauviale,
a small village situated 8 miles from Conques (one of the most
important tourist sites in the South of France) and only 12.5 miles
from Rodez Airport.
Ryanair operate direct flights to Rodez from Stansted, alternatively,
British Midland fly to Toulouse from East Midlands Airport :
(Toulouse is approximately 2 hours drive by car).
Our gîtes are often booked at Christmas and during July and August
(however short stays are sometimes available).
You can stay for the week-ends only or longer if you wish.
We would be pleased to help organize your stay.
For further information please contact : YVES (who speaks english).
Home Tel : 00 33 5 65 43 40 28
Mobile : 00 33 6 08 42 67 73
Inquiries and Bookings

Marie-Françoise et Yves Randeynes
536 av de Fareyrès 12300 DECAZEVILLE

www.facebook.com/aveyrontourisme


Twitter : @Aveyrongite